Hello Fellow Deviants,
I think it's about time I gave a little update to those who helped me though the worst ordeal of my life so far and show the remaining people who commissioned me for artwork quite some time ago that I haven't forgotten about them.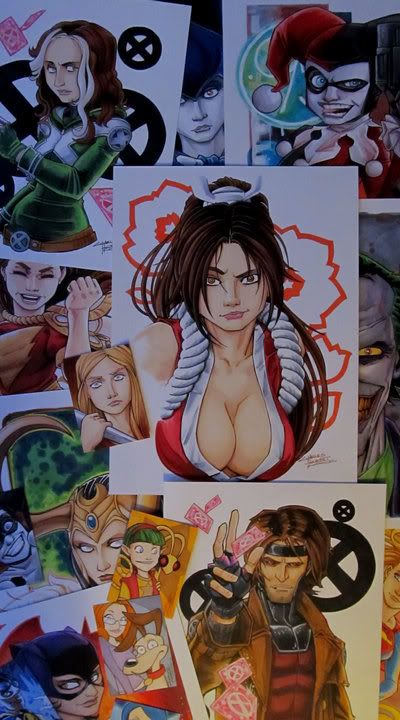 It's been almost two year since my home was broken into multiple times while I was away from home trying to help take care of a sick friend that my Mom had been taking care of by herself beforehand. I made a journal entry here on deviantArt giving thanks to to those who have like my work over the years and to those who have helped me through such a difficult time. The truth is that "thank you" also going to serve as a "farewell for now" if it weren't for the unexpected response I received and the intervention of one very kind person.
Not long after my home was clean out and it seemed we would be able to begin rebuilding the friend we were helping take care of (and who was also helping us) passed away from what was ailing him. The second massive heart attack I've witnessed and I can honestly say that I don't look forward to it happening again but we can never know what exactly is in store for us.
With another major setback thrown my way a longtime family friend stepped into insure that we made it though such a difficult time by opening her doors to us.
I kept me away from home for a additional 4 months but was worth keeping us from falling into a further depression. I've been helping out with my Mom since my Dad passed away from a massive heart attack, history repeated itself with our friend and on top of it our home was ransacked with most of our valuables and even clothing being stolen or trashed.
I will forever be in dept to those who helped us in such difficulties.
I've been back home for a year now with things being no less difficult.
I've come to find that the wear is catching up to me. Over the past year and for the first time in my life I've been finding it difficult to draw much of anything that would normally be a breeze for me.
Most of what you've seen me post in the past year (beyond the Little Big Heads, those are easy for me to draw and have served as a crutch) was drawn well over 2 or 3 years ago or are things that I've simply struggled to draw.
Stress is finally catching up to me, I've isolated myself from everyone except those I'm simply unable to avoid, I find myself once again becoming the cold miserable bastard I was long before any a you have come to known me and it seems to affected my creative spark and motivation but after far too long I'm starting to draw again!
Being able to draw again has shown me how much I've progressed over the year... I never did stop studying my craft.
It's a slight progress but it's still progress!
It's also shown me how much everything I drew in my "depression era" completely sucks. So I'm happy to say to those remaining two people who commissioned me before everything went to crap that the pieces you've been waiting patiently for have been upgraded in both quality and size and well as the inclusion of a additional color piece (shown in the picture above) ready to be shipped off... And one refund to be made as soon as I catch up to my online handler.
Those who I owe trades will see something in my coming journal post... as long as I'm not pimpin' another comic event.
I must mention that thanks to the difficulties of the past couple of years I've come to the decision to no longer take commissions until I'm once again fully capable.
With any luck the recent drawing spark I'm currently seeing will continue and you'll be seeing new work from me in the new year.
Until then I'll still be hanging around deviantArt lurking through the galleries of those who inspire me and conversing my fellow deviants who strive for creativity.
Thanks again to everyone!