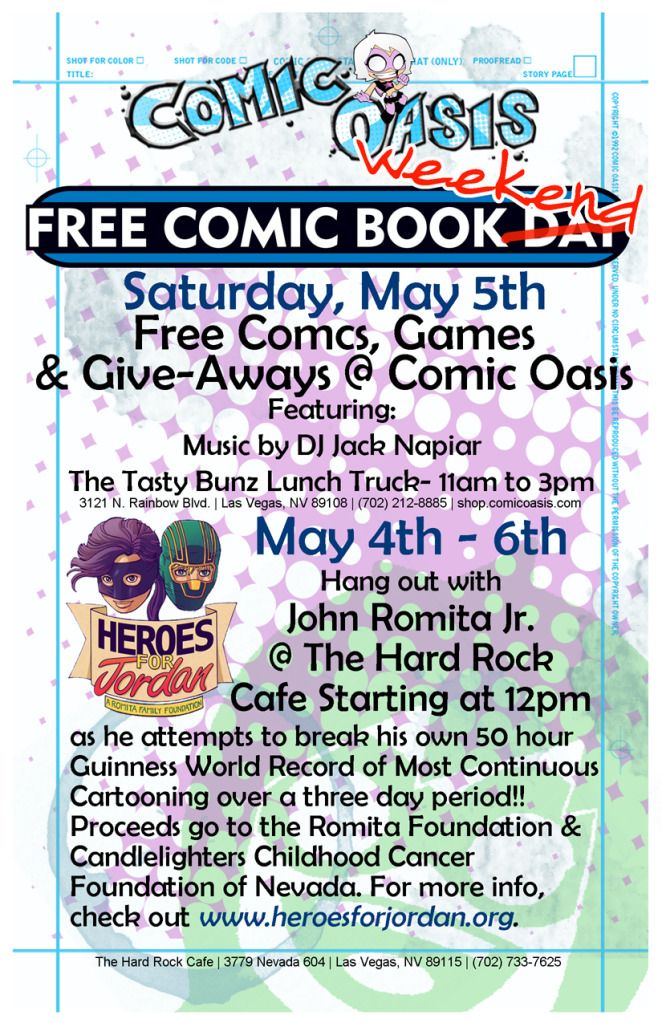 Free Comic Book Day & John Romita Jr. in Las Vegas!!!


Free Comic Book Day keeps on growing in Las Vegas and this one this year is a special one.
John Romita Jr. Attempts to Break His Guinness World Record of Longest Personal Signing & Drawing Appearance during opening weekend of Marvel's The Avengers motion picture.
To secure Jordan's (Heroes For Jordan) lifetime medical and personal needs and assist other children suffering from cancer and life-threatening diseases, the Romita Foundation and Comic Oasis has teamed with the Candlelighters Childhood Cancer Foundation of Nevada to raise much needed funds for Jordan and for other children diagnosed with cancer. 10 years after he set the original record, John Romita Jr., will attempt to break his own world record with 50 hours of longest personal signing & drawing appearance.
The public is invited to attend the World Record Attempt and encouraged to make a contribution to the Heroes For Jordan/Candlelighters Childhood Cancer Foundation of Nevada. Marvel character sketches and autographs by John Romita Jr. will be available for specified donations on a first-come, first-served basis.
This special event will take place at Hard Rock Cafe Las Vegas (3771 S. Las Vegas Blvd.) starting Friday May 4th at Noon until Sunday May 6th at 2pm. Stan "The Man" Lee is reportedly scheduled to make an appearance. A blank cover for Kick-Ass 2 #7 was also made for the event and I hear John has also made a special print for the event!

A call out to all local and maybe even visiting artist, if you have some time and feel like sketching I can point you in the right direction to contact Comic Oasis to set up some times to help keep John company.


UPDATE

Found this little video of Romita speaking about the event with more info on donations

geek-news.mtv.com/2012/04/26/j…
Follow this link for more info on Heroes For Jordan

heroesforjordan.org/?utm_sourc…